A user's account must activated before they can:
Log into the Intouch products
Receive triggered emails/SMS messages
Receive subscription emails for dashboards and reports
Receive notifications for cases, followups, assigned audits, etc.
Aside from the account activation email, no notifications of any kind will be sent to users who have not activated their account. By activating their account, a user is agreeing to receive notifications from Intouch Insight.
Users can activate their own accounts when they receive the account activation email.
---
The individual who creates the new user account can send the activation email when the account is created, or at a later date.
Remember! The email address on the account must be correct, or the user will not receive the activation email.
---
To activate their account, the user must:
Click on the Activate Now button in the account activation email
When they are redirected to the activation page, set a password for their account - even if they do not intend to log into the Intouch platform in future
---
If a new user is unable to locate the email, they should contact their account administrator. They can verify that the account has been created, confirm the email address is correct, and resend the activation email.

---
Although it is always recommended that users activate their own accounts so that they can, for example, access IQ reports, manage their notification preferences, etc., we understand there may sometimes be technical limitations that restrict a user's ability to complete the activation.
If this is the case with your organization, please advise your Intouch Client Manager; they will engage the appropriate resources to discuss the limitation with your IT department and attempt to resolve the issue.
If absolutely necessary, Admin users (or users who have been given User Management permissions) can manually activate accounts on your employees' behalf on a per user basis.
The user activating an account must verify the accuracy of the email address that is being used before activating the account.
---
It is the client's responsibility to ensure that all users that are being manually activated have valid/accurate email addresses.
---
To manually activate a user's account:
Navigate to Access from any other product by clicking on the Account Settings option in the menu at the top right corner of the screen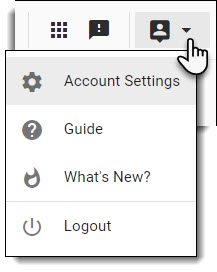 Then go to Organization Settings and click on the Users tab; click on the user you are activating
Confirm the user's email address is accurate
Finally, scroll to the bottom of the user's account details and click on Activate Account