Your user account must activated before you can:
Log into the Intouch products
Receive triggered emails/SMS messages
Receive subscription emails for dashboards and reports
Receive notifications for cases, followups, assigned audits, etc.
Aside from the account activation email, no notifications of any kind will be sent to users who have not activated their account. By activating your account, you are agreeing to receive notifications from Intouch Insight.
You can activate your account when you receive the account activation email.
---
The individual who creates your new user account can send the activation email when the account is created, or at a later date.
---
To activate your account:
Click on the Activate Now button in the account activation email
When you are redirected to the activation page, set a password for your account - even if you do not intend to log into the Intouch platform in future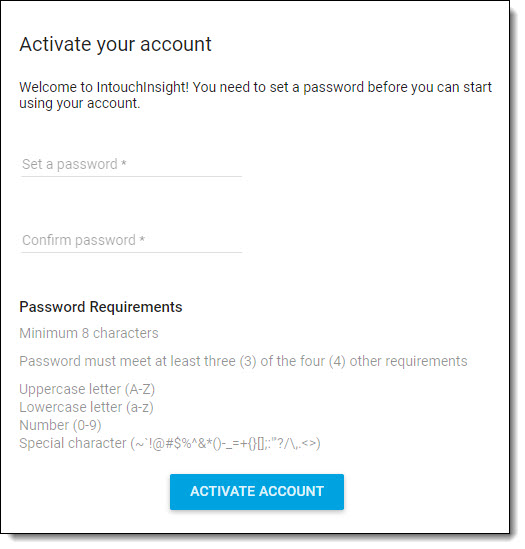 ---
If you are unable to locate the email, you should contact your program administrator. They can verify that the account has been created, confirm the email address is correct, and resend the activation email.

---
After setting your password, you will be able to log in and view all products you've been given access to. To learn more about navigating in the Intouch products, we suggest you continue here.